Welcome!
The APD mark was developed to help people with APD by design students in Hokkaido, Japan.
It is freely available to anyone who is aware of the symptoms and agrees to the terms of use.

※By downloading, you are agreeing to the terms of use.

APD mark(Kanji、Hiragana、English set)
Pastel color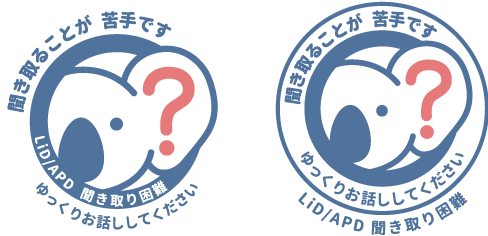 Background opaque image(jpg)
The data outside the mark is white. Downliad
Transparent background image (png)
The data is transparent outside the mark. Download
Terms
Notes
The APD mark is a symbol designed to make it easier for people with auditory information processing disorders to request consideration for their surroundings.
It has the following two roles.
1) To make it easier for people with APD to communicate their symptoms.
2) To increase awareness of the symptoms themselves by displaying the symbol.

This mark is not regulated by law.
Therefore, we are not obliged to post this mark, and we cannot guarantee that posting this mark will help people to be aware of their symptoms.
In addition, it does not imply that the party who posted the Mark is forcing those around him/her to be considerate.
The Company assumes no responsibility for any trouble or damage caused by the use of the mark, such as incidents or accidents.

Terms of Use
You can use this mark for both commercial and non-commercial purposes as long as you are aware of the role it plays.
You are free to change the color of the logo, use it in printed materials, and produce and sell goods.
※There are some exceptions for commercial use. Please refer to 4 below.

However, the following methods of use are prohibited.
1. Use against public order and morals
2. Modification or alteration that is contrary to the role
3. IUsing the mark in the name of its creator
4. Sale of goods produced by the goods production service

Others
If you have any questions, please contact us using the contact form.
Contact
If you have any questions or comments, please use the form below to send us your comments.
Please note that it may take us some time to reply to you.
Please understand that it may take us some time to reply.